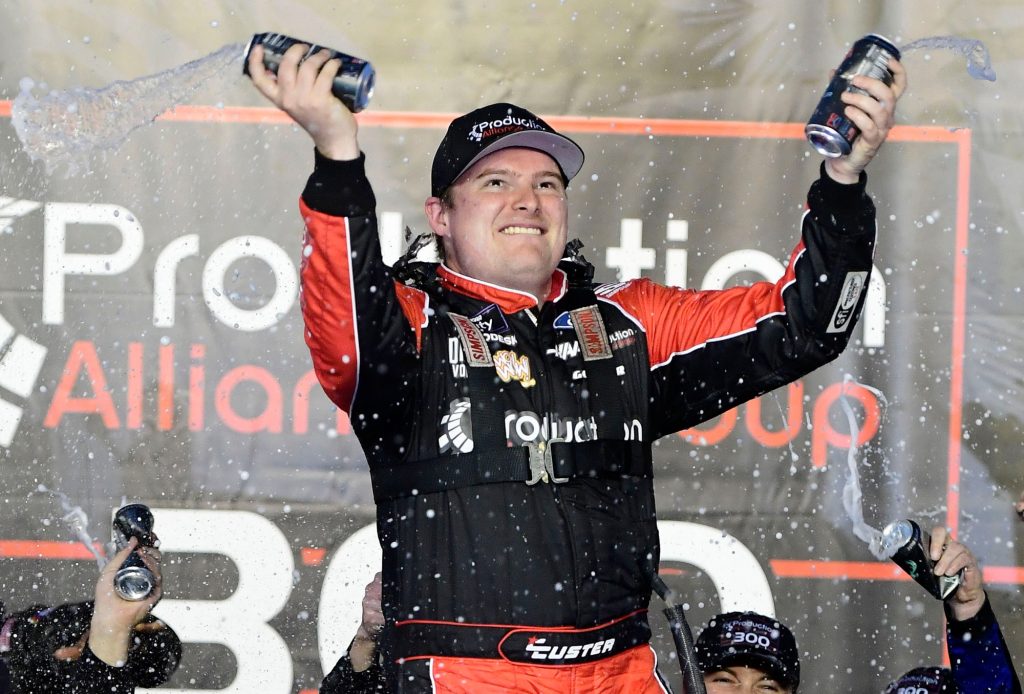 Cole Custer, a frequent in the NASCAR Cup Series, had a victorious comeback to the Xfinity Series at Auto Club Speedway on Saturday.
Custer dominated the race for 80 laps but had to battle through three overtime tries to win. It's his tenth win in NASCAR's second national series.
His victory marks SS Green Light Racing's first in the Xfinity Series. Custer's Cup team, Stewart-Haas Racing, has a technological alliance with Bobby Dotter's squad.
Custer's team had a challenging day on pit road, losing multiple positions on several occasions. Custer was aided in overcoming these problems by a speedy No. 07 Ford.
"Man, that was just an awesome car," Custer told Fox Sports. "That thing was a rocket ship all day. I can't thank Bobby Dotter enough and everybody who was involved on this car. It was unreal how fast we were."
With six circuits remaining in the planned distance, Custer took the lead after a restart (Lap 145 of 150). The race went into overtime due to a caution with four laps to go.
Brandon Jones spun in Turn 2 off contact with Daniel Hemric in the first overtime attempt.
Jones then got the worse of a brawl between Sheldon Creed and Stefan Parsons in the second overtime effort. Jones' efforts to avoid them resulted in him sliding into the sand barrels near pit road's entrance.
Before Custer could grab the white flag and continue the race, another caution was issued. The race was then red-flagged for cleanup (23 minutes, one second).
Due to four new tyres he had taken before the start on Lap 145, Anthony Alfredo appeared as a danger as overtime progressed.
After getting those tyres, he began outside the top 20. Despite the numerous yellows, he climbed to the front row, lined up alongside Custer for the third and final overtime attempt.
On the inside, Alfredo received a push from Justin Allgaier on the beginning. Custer, on the other hand, took the lead off Turn 2 thanks to a strong run on the outside.
Noah Gragson went into 2nd spot as Alfredo faded. Custer, on the other hand, had gone too far ahead by that point.
"I feel like (the car) was really close all day," Gragson told Fox Sports. "Just struggled with the cloud cover and the temperature change and being too loose or too tight.
"… We finished third last weekend, finished second this weekend. Hopefully, we got some good points. This is not one of my good tracks, so I'll take a second-place finish."
Several face masks inspired by NASCAR racing drivers are currently available at the following websites for a reasonable price:
Hendrick Motorsports, IndyCar, Cole Custer, Nascar, Nascar Cup Series, Xfinity