At Martinsville (Va.) Speedway, Kyle Larson leveraged a two-tire pit stop into a convincing victory by taking advantage of a late caution that upended strategy.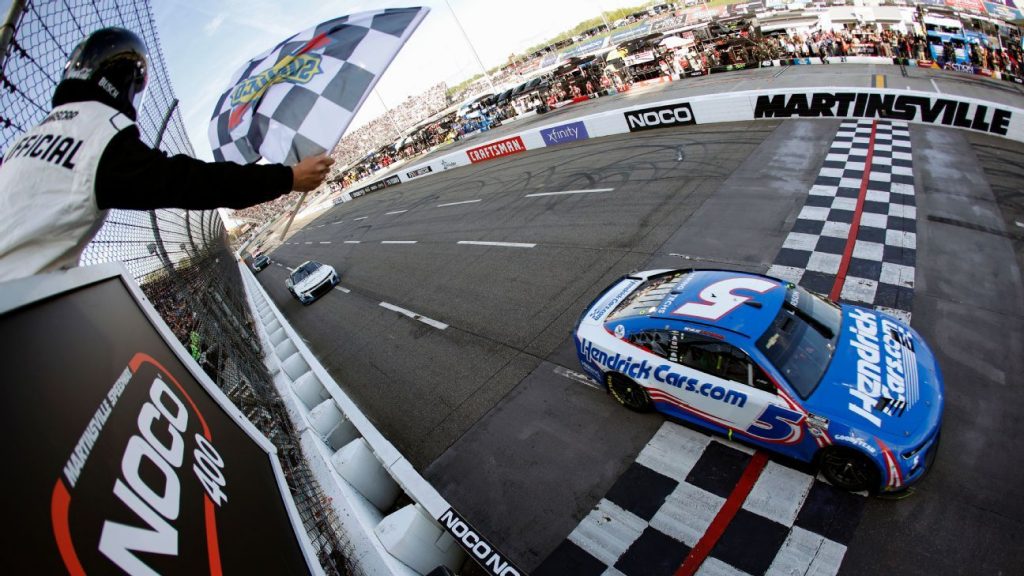 In Sunday's race, passing proved difficult as Larson had to run in the middle of the pack for most of the day. However, he climbed into the top 5 spots by staying outside when most drivers pitted for a caution on Lap 305 of 400.
On Lap 343 during a subsequent caution, Larson pitted but only added two new tires. He eventually lined up fifth for the restart behind four other racers who had stayed on the track.
After a battle with the race's early leader Joey Logano with 29 laps to go, Larson took the lead and never looked back, winning by a margin of 4.142 seconds.
To the joy of the audience, Larson then performed a burnout around the entire.526-mile short track to mark his unanticipated triumph.
The victory, Larson's second of the year, his 21st overall, and his first at Martinsville, came as a huge surprise to the 2021 series winner.
"Yeah, I had never ever would have thought that I would win here at Martinsville. This place has been so tough on me. Just does not suit my driving style at all," Larson said. "I like to charge the center. I like to roll momentum, and that's just not what this place is like.
"But thanks to (crew chief) Cliff Daniels and everybody for making me feel like I know what I'm doing sometimes around here. So, I just can't believe it.
"I honestly have never thought I would win here so I don't have a spot picked out either for the (grandfather) clock, so I'll have to make some space for sure."
Larson expressed his appreciation for the victory, but he also understood the significance of the Martinsville victory for Hendrick Motorsports.
It is the location of the organization's maiden Cup victory (1984) and the accident site of an HMS plane that was traveling to the event in 2004. The son and brother of team owner Rick Hendrick were among the 10 people that perished.
"You know, everybody knows what happened here so long ago, and I think everybody – you know, that's on everybody's minds every time they come to Martinsville, so wish Rick was here, Linda, but we've got Jeff Gordon here," Larson said.
"Thanks to everybody at Hendrick Motorsports. You guys are the best and make me – I can't believe it. I can't believe that I won at Martinsville."
Logano managed to hold off Martin Truex Jr. at the finish line to maintain second place. Denny Hamlin finished in fourth, while Chase Briscoe completed the top five.
Aric Almirola, Ryan Blaney, Ricky Stenhouse Jr., Bubba Wallace, and Chase Elliott, who was making his return to racing following six races missed due to a fractured tibia in his left leg, rounded out the top ten.
Early in March in Colorado, Elliott was injured in a snowboarding crash.
Below are some of the most well-known NASCAR drivers' apparels , all of which are available at reasonable costs. Visit our link now if you are interested in the racing clothing collection:
Kyle Larson, Hendrick Motorsports, IndyCar, Nascar, NASCAR Cup Series, Nascar 2023, Martinsville Speedway, Joey Logano